Jira Service Management for Customer support
Jira Service Management (former Service Desk) is a web-based help desk software that allows you to effectively manage your customer service requests.
Author:
bha
created on 2021-08-06
Sylbek Support via Jira ServiceDesk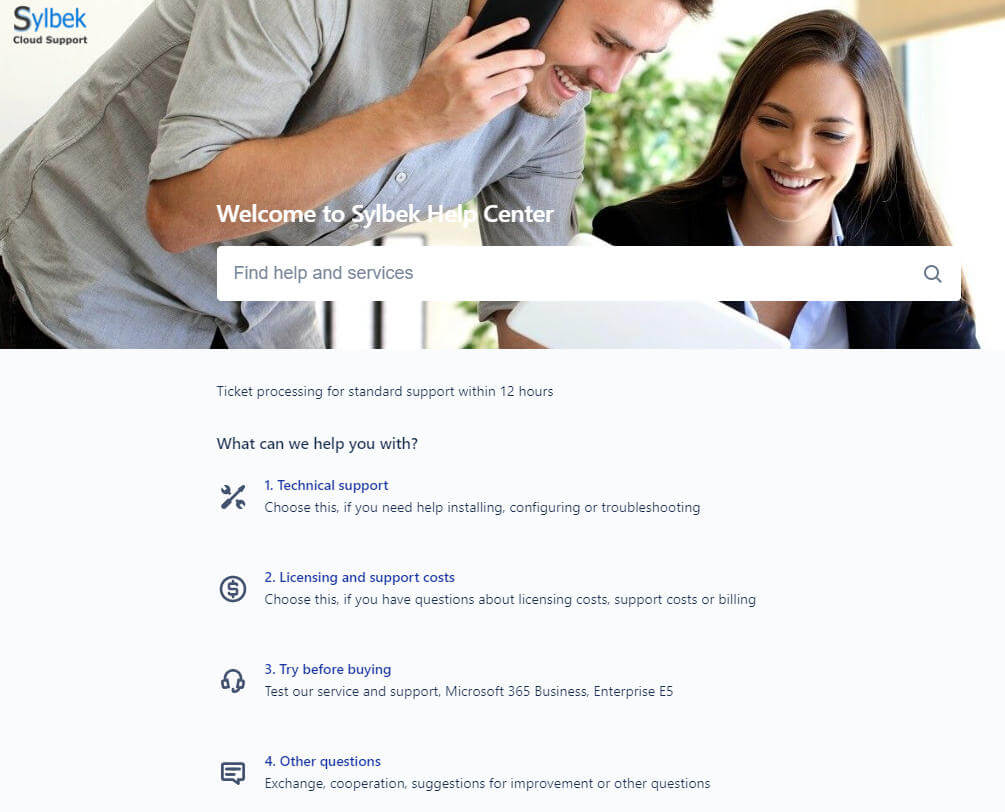 Drawing: Sylbek 2020
Service and Support for your customers
If you are looking for an email communication alternative for your customers, that also offers better service and reasonable prices (for small companies even free), you should consider Jira Service Management cloud software from the Australian software manufacturer Atlassian.

Jira Service Management (former Service Desk) is a web-based help desk software that you use to manage inquiries for your customer service. With such information available in the form of tickets, companies can react faster and more effectively to customer inquiries.
These requests via Jira Service Management can be sent by employees as well as external customers. A support employee or the agent in Jira Service Management processes the requests according to priorities, depending on the content or agreement with customers.

The customer who sends the request receives an overview of the tickets he has sent himself or if so set, from other colleagues in his own company. The customer can follow the progress of his request via browser, and if there are changes he will receive a message by email.

Support employees receive an overview of the current inquiries or support tickets in a web interface.
These tickets can be structured according to the customer, the type of request and processed depending on service level agreements (SLA). Customers can check this in real-time, complete information and insert screenshots.


Service Management and Confluence pricing
Jira Service Management offer can be completed with Jira Confluence, so that the customer can find the information for frequently asked questions (FAQ) independently and does not have to create a ticket, thus saving support costs. Jira Confluence also serves as an internal knowledge database.
This is possible with up to 3 agents (support staff), with any number of customers. Confluence is also free for up to 10 employees. See
Jira cloud calculator
.
How to test the product before
We use Jira Service Management for our
customer support
, see picture above.
Anyone can send us an inquiry through this. In order to make an inquiry you need to register with your email address, which will be verified.
This registration effort is one-time. After that, communication is effective, transparent and looks confidential. You have the option to choose between 4 subject areas, so your request will be processed faster.
☏ +49 721 66980 610
Write to us,
you can expect an answer on the same or next working day.


Get together and talk
We are happy if you (
right here
) choose a time and arrange a free online meeting via
Microsoft Teams
. For example, we could talk about how you can optimize your Microsoft licenses and reduce costs.
Customer support
We would be happy to support you in Microsoft 365 and Azure questions. You can count on our support at fair prices in range of 65-85 EUR per hour. We can use your ticket system or our support
Jira ServiceDesk
, see
Exemplar ticket
.
You will be supported by security experts who continuously upgrade their Microsoft competencies and prove them with manufacturer certificates. This is a MUST for us to keep customer support at the highest level and up to date with the latest technology.