Windows 365 vs AVD comparison
Windows 10/11 including settings, data and apps are in the Azure cloud and users can access them from any device with a browser.
Author:
bha
created on 2021-08-23
Windows 365 or Azure Virtual Desktop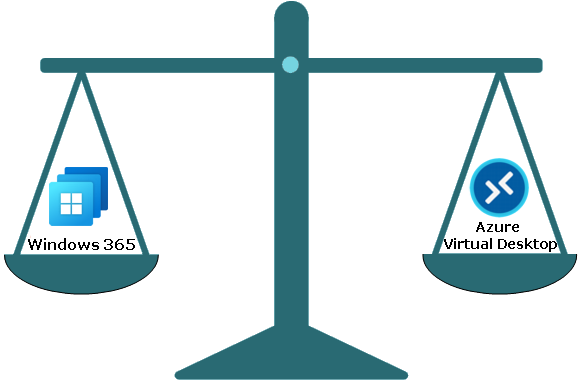 Drawing: Sylbek 2021
Windows 365
Cloud PC has been available as a virtual desktop in Azure Cloud since 2 August 2021. Windows 10 (later Windows 11) including programmes, data and settings are in the cloud and users can access them from any device with a browser.
Azure Virtual Desktop
(AVD) comes with Windows 10 Enterprise multisession capabilities. AVD is a cost-effective option for working with familiar software and data. Azure Virtual Desktop launched in September 2019 and is the evolution of Microsoft Remote Desktop Services (RDS). AVD was known as Windows Virtual Desktops (WVD) until July 2021.
For more information, see
AVD with Windows 10 Multi-Session
.
Prerequisite - licenses
There are two versions of Windows 365, Enterprise and Business.
Business
version is for companies with up to 300 employees, that can get started with the cloud PC within 1-2 hours without any licensing requirements, similar to a physical PC.
Enterprise
version is for larger companies, with no limit on the number of users. A Windows 10 E3 or VDA license is required. In addition, a license for Endpoint Manager and Azure AD P1 is required.
For
Azure Virtual Desktop
,
M365 Business Premium
or
Windows 10 E3
is required, available as a standalone product, and included in Microsoft 365 E3, E5, A3, A5, F3. How Microsoft 365 plans differ from each other see
Microsoft 365 plans comparison
.
In practice, Windows 365 can't be used productively that well without Office 365 apps, therefore you'll need for example M365 Business Premium or
M365 E3
.
Functions
Users who are used to working on RDS servers will be just as familiar with Cloud PC or AVD. Only an RDP connection must be created.
RDP protocol is available for almost all operating systems such as Windows, MacOS, Linux, iOS or Android. Furthermore, both products can also be accessed via a browser.
On Windows 365 Cloud PC, the entire operating system is virtualised, so individual software can be installed, while in AVD only the user's own working environment (profiles) is virtualized, so the installed apps are available to all users.
From an administrative point of view, AVD is fully manageable through Azure Portal, while Business Version is mainly managed by users themselves. Windows 365 Enterprise is mainly managed by the administrator via Endpoint Manager.
Windows 365 is closer to the physical Windows 10, while AVD is closer to on-prem RDS server.
Prices
Windows 365 has fixed monthly prices regardless of the duration of use. Windows 365 Business costs from 21.90 EUR for the entry-level version with 1vCPU, 2GB RAM, 64GB storage.
══
══
Enterprise version costs less, which is 18.20 EUR/month for the same entry-level version. As a reminder, Enterprise version requires Windows 10 Enterprise license (see above).
AVD as Windows 10 Multisession is available for several users simultaneously and is paid depending on usage. E.g. an Azure of type A4m v2 with 4x CPU, 32 GB at an optimized usage for 10h a day Mon-Fri costs only 114,08 EUR for approx. 10 users.
The price includes a data transfer of 500GB from Germany-West (Frankfurt) and daily backups for one week.
In addition to usage costs, there are administration costs, which are somewhat lower for AVD, since for the above example only one server is administered, which is available for several users. CALs are not required, as is the case with RDS Server.
Conclusion
For small businesses, the Windows 365 Business version is the preferred choice. This does not require Azure Subscription, is automatically connected to Azure AD, so users can use the normal Office 365 access. In this case, the user manages their own device.
Windows 365 Enterprise has slightly lower prices, but requires e.g. Windows E3 licence and Azure infrastructure. Enterprise Cloud PC is connected to on-premises AD, which has 'Azure AD Hybrid Join' enabled. An administrator has more control through Endpoint Manager and Azure Networking.
AVD is a VM in the Azure subscription. An administrator has complete control and choice for various services such as VM types, storage, backup, etc. AVD can connect to both Azure AD and On-Prem AD if 'Hybrid Azure AD Join' is enabled.
Cloud PC is currently only available in 2 European regions, Europe West (Amsterdam) and Europe North (Dublin). AVD is available in 8 European regions, including Germany-West (Frankfurt).
Azure Virtual Desktop is a great alternative to Windows 365 as it offers more flexibility, often better prices and the administrative effort is smaller.
Windows 365 is used for software that cannot be run in multisession mode. Therefore, there cannot be a general recommendation, sometimes the combination of both products is the best solution.
Further information
You are welcome to contact us about this, it may be that for your company an individual or combined solution may be suitable. For example, if a lot of resources are needed (e.g. development), then a local PC is more recommended, otherwise the prices for virtualized solutions would be too high.
Not only a physical PC needs hardware, but also cloud PC and AVD. We have solutions with prices for all three of these groups: