Reduce attack surface and complexity
By reducing the attack surface, often through resource consolidation, organizations can permanently reduce risk and cost and minimize cybersecurity outages.
Problem - attack surface too big
The threat landscape is becoming more complex every day. At the same time, the attack surface in many companies is getting bigger and bigger. This combination means security analysts are busier than ever sorting, responding to, and remediating alerts, threats, and incidents across their complex hybrid environments.
However, these challenges cannot be solved simply by implementing new security tools. Adding more products in response to new threats not only increases the attack surface, but also often slows down daily operations.
Increasing the number of staff in your Security Operations Center (SOC) is also not the answer as cybersecurity threats continue to grow faster.
The good news is that there are ways to overcome these problems without adding new tools or people through:
Simplify infrastructure or reduce complexity

Advance infrastructure in the direction of cloud-only

Outsourcing of some tasks to dedicated experts

Azure AD Conditional Access
The authentication process traditionally worked: a user gives username and password and can access resources in local network.
Nowdays, in addition, Azure AD Conditional Access is used to enforce MFA authentication. According to
Microsoft
MFA can block over 99.9 percent of account compromise attacks.
══
══
Conditional Access uses multiple signals in real time about user identity, device compliance, location and session risk factors, etc. to allow, block or restrict access to company resources.
Since compromised accounts are among the most important attack vectors, blocking access to credentials, even if a correct password is provided, can be invaluable in preventing intrusions.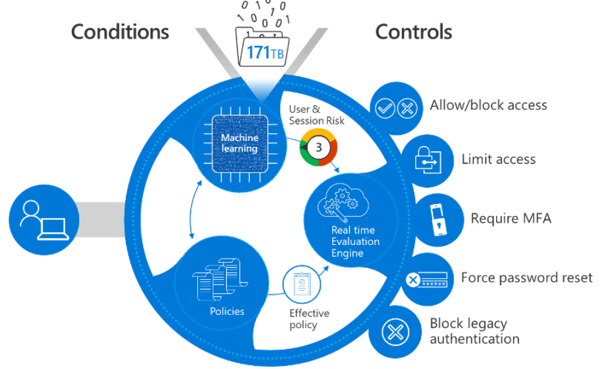 Source: learn.microsoft.com
Increase security and reduce costs
Ready for Cloud Only?
Many organizations have been running a hybrid environment with AD and Azure AD Connect Server for years and replicate user accounts and groups to Azure AD.
Several dependencies need to be removed before switching to Azure AD (cloud only), including:
Switch Windows Clients to Azure AD-Joined

Migrate Exchange Server to Exchange-Online, incl. MX-Record

For additional Lagacy servers, use Azure AD DS transitionally

Azure AD Connect (switch to Password Hash Sync if necessary) stop service

M365 ADSyncScheduler set to False

Back up the configuration of AD and Exchange Server, for rollback plan

If you take this step with our support (despite the lack of Microsoft documentation) you will have at once freed up physical and human resources to focus on cloud security.
The future of cybersecurity is cloud-only. It's faster, more responsive to current threats, easier for policy enforcement, control, troubleshooting, updates, and just about everything else in today's world of hybrid work.
Zero Trust Strategy
In the past, local networks were often the only line of defense in the fight against malware, hackers and cyber criminals. Anything outside the local domain was considered a potential threat and defended against with firewalls and similar security measures.
Devices on the local network, on the other hand, were considered part of this closed ecosystem and therefore generally considered secure and trusted.

To protect against the increasingly frequent and sophisticated cyberattacks, even users and devices within your own network can no longer be trusted implicitly, but their identities must be constantly verified.

This approach, commonly known as the zero trust model, teaches us: never trust, always verify.
Instead of believing that everything behind the corporate firewall is secure, the zero-trust model assumes breach and verifies each request.

The Microsoft approach to zero trust includes Conditional Access as the main policy engine that includes both policy definition and enforcement.

Reduce complexity
To successfully reduce the attack surface, a complete inventory of all accounts, resources and systems must be documented, because you can not protect what you do not know!
This inventory provides information about outdated operating systems, older applications, and who has access to these systems and what access rights they have.
To reduce complexity within the IT environment, the following should be considered:
Take down obsolete software systems

Reduce the number of tools and solutions in use

Segment network with strict access controls

Train employees on safety best practices, thus preventing security incidents

Work with a limited number of trusted suppliers and partners

Define the most important security needs and risks

Use cloud-based security solutions that offer scalability and easy management

Keep all software and systems up to date

Proactive security strategy
IT teams struggle to address cyber threats as they evolve, especially when they are already busy with day-to-day tasks, such as resetting passwords and applying patches.
Automating as many routine tasks as possible allows IT teams to focus on such tasks, e.g. monitoring the threat landscape, improving cyber risk management and reducing the time to detect and respond to incidents.
Threat hunting is a proactive approach to cybersecurity improvement that finds threats before they can cause harm. This method is based on manual activities and supported by automated techniques.
With Microsoft 365 Defender
Advanced Hunting
security teams can search for suspicious activity, attack patterns, or unusual behavior to identify threats early and respond appropriately.
We will gladly exchange ideas on how we can support you in establishing or improving a proactive security strategy.