What is Windows 365 Cloud PC?
Windows 365 Cloud PC is available since August 2, 2021 as Virtual Desktop, a virtual PC hosted in the Azure Cloud.
Windows 365 is a VDI solution, which means that users can install apps and change settings that only impact their personal desktop PC in the cloud.
Windows 365 is available as
Windows 365 Business
(for companies with up to 300 employees) and
Windows 365 Enterprise
for larger companies (with no limit on the number of users).
It is a product designed for companies that want to reduce administration costs through full desktop virtualization.
Windows 365 is managed through Endpoint Manager. Different versions of Windows can be delivered pre-configured, if desired connected to on-prem Active Directory.
Windows 365 pricing
Windows 365 offers fixed price licensing for different sizes of cloud PCs.
If additional resources are needed for the cloud PC, an administrator or end user (if allowed) can easily resize their cloud PC.
Note that the prices for
Windows 365 Business
are slightly higher than for
Windows 365 Enterprise
.
For Enterprise version, Windows 10 Enterprise or VDA license is required. Additionally, a license for Endpoint Manager and Azure AD P1 is required.
Windows 365 Business version has restrictions in data transfer from 12-70 GB for outgoing data (download for on-prem device) per user and month, see
Windows 365 FAQ
.
Hardware for Windows 365
To access Windows 365 there are no hardware requirements, just a device with a browser. Of course, it is suitable for Windows, macOS, Linux, and tablets. Theoretically, smartphones can also be used, as far as it makes sense due to the small screen.
According to our strategy of offering the customer only those solutions that allow to reduce costs (administration effort, user support, acquisition costs) and at the same time increase security, we would like to suggest Windows 10 S or Google ChromeOS for this task.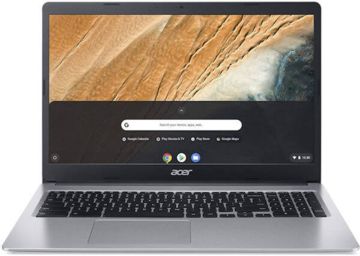 Source: acer.com
Windows 365 vs. Azure Virtual Desktop
Azure Virtual Desktop is a alternative solution to Windows 365, as a shared desktop like RDS Server. It runs as a Windows 10/11 in multi session mode. It offers better prices and the administrative effort is smaller.
Windows 365 is used for software that cannot run in multisession mode. For more information, see
Windows 365 vs. Azure Virtual Desktop
.
Windows 365 - test options
There is the possibility that the customer receives a test licence for Windows 365 Business.
For Windows 365 Enterprise is also Microsoft Intune and Azure Subscription is needed. We can support you in your evaluation efforts and deliver the needed services to test windows 365 Enterprise with no cost from your side to Microsoft.
For such time-intensive tasks, we have Service & Support costs, which we calculate as a fixed amount and send an offer in advance.